How to Order
Phone
08 9756 0460
Fax:
08 9756 0460

Mail:
SWANRIVER FURNITURE, 16 Warren Rd, Nannup WA 6275

Email enquiries can be made to phil@swanriverfurniture.com.au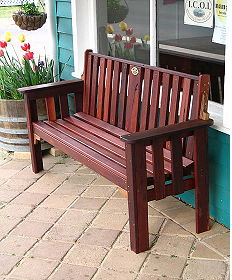 Park Bench
NEW ~ JARRAH OUTDOOR FURNITURE Now available from ICOL Furniture and The Nannup Furniture Gallery comes this new range of Jarrah patio furniture. Shown here is the bench seat designed to seat three persons in comfort.

Price: $780 AUD
Tip: Convert into your local currency.



Additional Information:

I.C.O.L ( Interesting Crusty Old Locals) Outdoor and Patio Furniture

Is now part of The Nannup Furniture Gallery stable.

Well - it's just me really. .. . but it sounds flash!

Hand crafted in solid Jarrah, these park benches are perfect for the verrandah, pool side, Patio or just about anywhere you feel you might like to plonk your bum and have a few quieties.

Able to seat three not so Tinkerbell sized bums in comfort and safety - (apart from when the local plod comes and asked you to stop drinking out the front of the shop!)

Solidly built and also available to flat pack for transport, and finished in a natural oil product designed specifically for our native Jarrah to protect it from the elements.