How to Order
Phone
08 9756 0460
Fax:
08 9756 0460

Mail:
SWANRIVER FURNITURE, 16 Warren Rd, Nannup WA 6275

Email enquiries can be made to phil@swanriverfurniture.com.au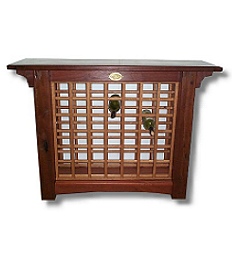 Marri and Jarrah Wine Rack
Showing a mixture of hardwood timbers with the old Jarrah legs and framing with the Marri for the rack insets.



Price: $2180 AUD
Tip: Convert into your local currency.



Additional Information:

Crafted from reclaimed Jarrah - this lovely wine rack holds 48 bottles of the best -

Crafted from timbers from old railway wagons and salvaged house timbers brought to life yet again in this slightly rustic - but ever so nice peice.

The real value in this piece is much more than just the value of the asking price.

This piece can be made to suit the size that suits you best - but as presented here, it shows a great definition of proprtion and balance - and some other descriptive prose.. . . .