How to Order
Phone
08 9756 0460
Fax:
08 9756 0460

Mail:
SWANRIVER FURNITURE, 16 Warren Rd, Nannup WA 6275

Email enquiries can be made to phil@swanriverfurniture.com.au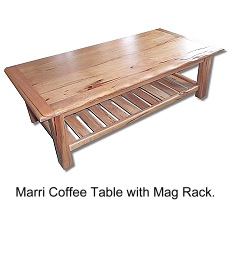 Marri Coffee Table
Natural edged Marri Coffee Table with magazine rack Size: 1.300 x. 750 x. 460

Price: $1480 AUD
Tip: Convert into your local currency.



Additional Information:

The lovely honey tones of this timber are highlighted beautifully in this piece.

The feature timber is put to good use in this coffee table.

The waterfall 'breadboard' ends work well to define the Natural edges.