How to Order
Phone
08 9756 0460
Fax:
08 9756 0460

Mail:
SWANRIVER FURNITURE, 16 Warren Rd, Nannup WA 6275

Email enquiries can be made to phil@swanriverfurniture.com.au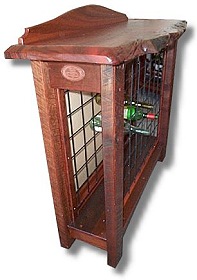 Jarrah Slab Top Wine Rack
Jarrah Wine racks

A great example of using Reclaimed timbers. Designed to hold 56 bottles
Size 1.200w x 1.000h x 450d

Price: $2195 AUD
Tip: Convert into your local currency.



Additional Information:

In this beautiful Jarrah Wine Rack we have the ultimate in re-used timbers. There is old roofing beams from a recently renovated 1890's house in Fremantle. Some 90 year old flooring from an old Hardware Warehouse. Along with some heavy duty re-enforcing mesh. And of course - a beautiful Natural Edged Jarrah Slab top from a 350 year old tree, that had been laying on the ground on the banks of The Blackwood River not far from Nannup, in our Southwest for 30 odd years.

A must have for the serious grog afficionado.