How to Order
Phone
08 9756 0460
Fax:
08 9756 0460

Mail:
SWANRIVER FURNITURE, 16 Warren Rd, Nannup WA 6275

Email enquiries can be made to phil@swanriverfurniture.com.au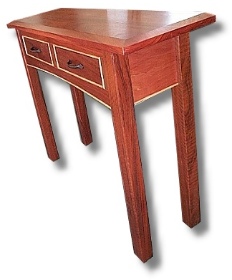 Jarrah Hall Table
Crafted in character Jarrah with Marri (Red Gum) trim.

Price: $1995 AUD
Tip: Convert into your local currency.



Additional Information:

This delightfull piece of furniture has been crafted for you in rich hardwood Jarrah.

The lighter Marri edge trim detailing works beautifully to highlight the colour of the Jarrah timber.