How to Order
Phone
08 9756 0460
Fax:
08 9756 0460

Mail:
SWANRIVER FURNITURE, 16 Warren Rd, Nannup WA 6275

Email enquiries can be made to phil@swanriverfurniture.com.au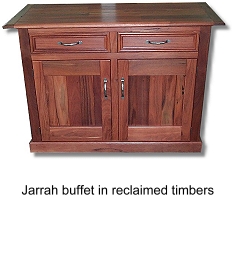 Buffet - Reclaimed Jarrah
Two door/Drawer Buffet in reclaimed Jarrah.

Price: $1895 AUD
Tip: Convert into your local currency.



Additional Information:

The rich old timber of the old Jarrah floorboards I have used in this piece shine with new life and richness.

This is a piece that any home would benefit by.

The old timbers, with thier many hues and textures, all work together to make this item so rich and alive.

The practicalities of a piece like this, in the home of today, are many and varied.

From a general storage cabinet or telephone cabinet, a home office for the fax and printer - to a pride of place Wine Servery.